The Sustainable Development Goals (SDGs), also known as the United Nations Global Goals, were developed in 2015 as a global call to action to eradicate poverty, safeguard the environment, and guarantee that everyone lives in peace and prosperity by the year 2030. There are a total of 17 objectives, each with a time frame for completion. These objectives are interconnected and address a variety of social, economic, and environmental issues, such as those relating to poverty, hunger, health, education, gender equality, clean water and sanitation, affordable and clean energy, decent employment and economic growth, industry, innovation, and infrastructure, decreased inequalities, sustainable cities and communities, responsible consumption and production, climate action, life in the oceans and on land, peace, justice, and strong institutions.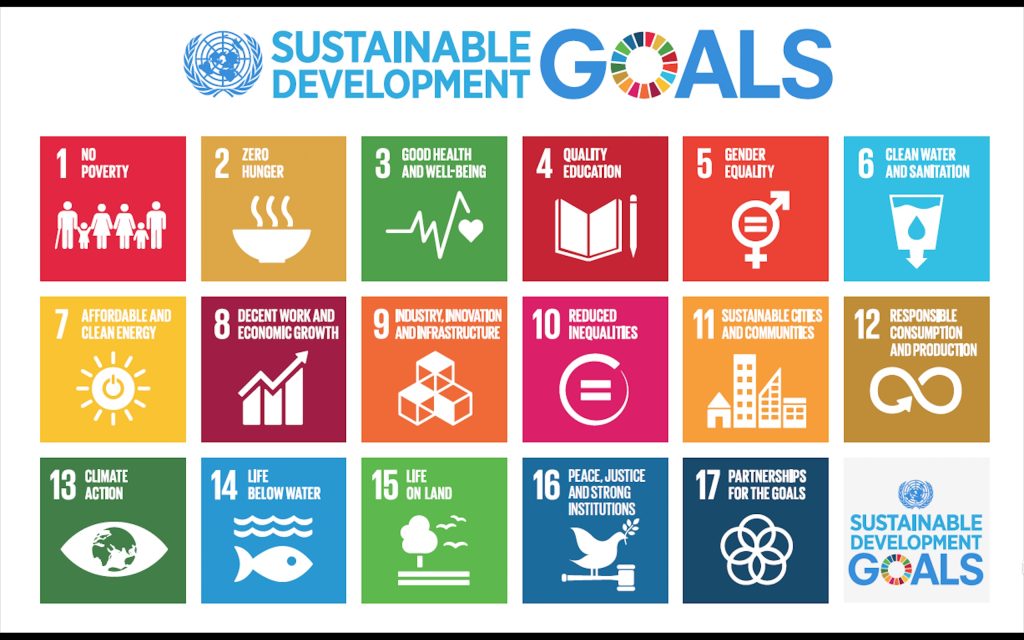 By incorporating sustainability into their business processes and operations, companies can significantly contribute to the UN Global Goals. The following are some ways that businesses may help:
Corporate social responsibility (CSR): Businesses can take part in CSR projects that target specific Global Goals, such as lowering poverty levels or advancing gender equality.
Sustainable product development: Businesses can create sustainable products and encourage using renewable resources in their manufacturing procedures.
Energy efficiency: Employing energy-efficient procedures and technology and renewable energy sources can help businesses reduce their energy usage and emissions.
Employee engagement: Businesses may inform and motivate their staff to promote sustainability at work and in their personal life by educating them about the Global Goals.
Transparency and reporting: Businesses can be open and honest with stakeholders about their sustainability initiatives and their progress toward realizing the Global Goals.
Supply chain management: By implementing fair labour policies, cutting waste and emissions, and supporting sustainable sourcing, businesses can make sure that their supply chain practices are sustainable and in line with the Global Goals.
Collaboration and partnerships: Organizations and stakeholders, including as governments, NGOs, and local communities, can work together with businesses to address global challenges and realize the Global Goals.
Finally, the UN Global Goals offer a framework for businesses to implement sustainable business practices and support international initiatives to build a better future for all. Businesses that incorporate sustainability into their practices and business plans not only help the environment and the communities in which they operate but also enhance their own performance and competitiveness over time.
Global References:

Here are some reliable websites where you can find more information on the United Nations Global Goals and the role of companies in achieving them:
United Nations Sustainable Development Goals (SDGs): The official website of the UN SDGs provides an overview of each goal, its targets and indicators, and progress towards achieving them.
Global Reporting Initiative (GRI): GRI is a global organization that helps businesses and governments report their sustainability impacts. They provide information and resources on the UN SDGs and how companies can contribute to their achievement.
Business for Social Responsibility (BSR): BSR is a global non-profit organization that helps companies build more sustainable and responsible businesses. They offer resources and guidance on how companies can integrate the UN SDGs into their strategies and operations.
World Business Council for Sustainable Development (WBCSD): WBCSD is a global network of over 200 leading companies working together to accelerate the transition to a sustainable world. They provide insights, tools, and best practices on how companies can contribute to the UN SDGs.
UN Global Compact: The UN Global Compact is a strategic policy initiative for businesses that are committed to aligning their operations and strategies with ten universally accepted principles in the areas of human rights, labor, environment, and anti-corruption. They provide resources and guidance on how companies can implement the UN SDGs in their businesses.
Canadian Web References

Sustainable Development Solutions Network Canada (SDSN Canada): SDSN Canada is a national network of universities, businesses, civil society organizations and governments working together to accelerate progress towards the UN SDGs in Canada.
Corporate Knights: Corporate Knights is a Canadian media and research company that promotes responsible business practices and provides information on sustainable business and the UN SDGs.
Canadian Council for International Co-operation (CCIC): CCIC is a coalition of Canadian organizations working globally to achieve sustainable development. They provide information on the UN SDGs and how Canadian organizations can contribute to their achievement.
Pembina Institute: The Pembina Institute is a Canadian think tank that works to advance sustainable energy solutions. They provide information and resources on the UN SDGs, including how Canadian businesses can contribute to their achievement.
The Conference Board of Canada: The Conference Board of Canada is an independent, not-for-profit research organization that provides insights and recommendations on a wide range of issues, including sustainability and the UN SDGs.
These websites provide a wealth of information and resources on the UN Global Goals and the role of companies in achieving them, and can be a useful starting point for those looking to learn more about this important topic.